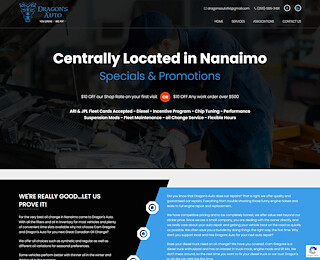 Your vehcile requires regular maintence to keep the wheels turning and engine running. While some makes and models are more forgiving than others, all vehicles need regular oil changes. This includes lubricating the drive train, front end and hinges. It also includes changing the oil filter and oil as well as the air filter. Sometimes a radiator flush is required to get rid of buildup and your engine needs a good flush to get rid of tiny flecks of materials that linger in your pistons and keep your engine from performing like a well oiled machine.
If you are looking for a cheap oil change company in Nanaimo, BC then give Dragon's Auto Repair and Tuning a call. Cam is a licensed trade qualified technician with a fully function mechanics shop at your disposal. He performs preventative maintenance on all makes of cars, truck and fleet including commercial vehicles and out of town inpspections. Its easy to see that the customers who come to Dragon's end up coming back and referring their friends, because its hard to find an affordable oil change company with high standards in North Nanaimo.
The next time you need an oil change, don't go to to one of the huge oil change companies like Great Canadian Oil Change or Mr. Lube. Support a local oil change company like Dragon's Auto instead. Put food on the table of a family in your community instead of buying the CEO of a commercial oil change company a holiday home in Lantzville.